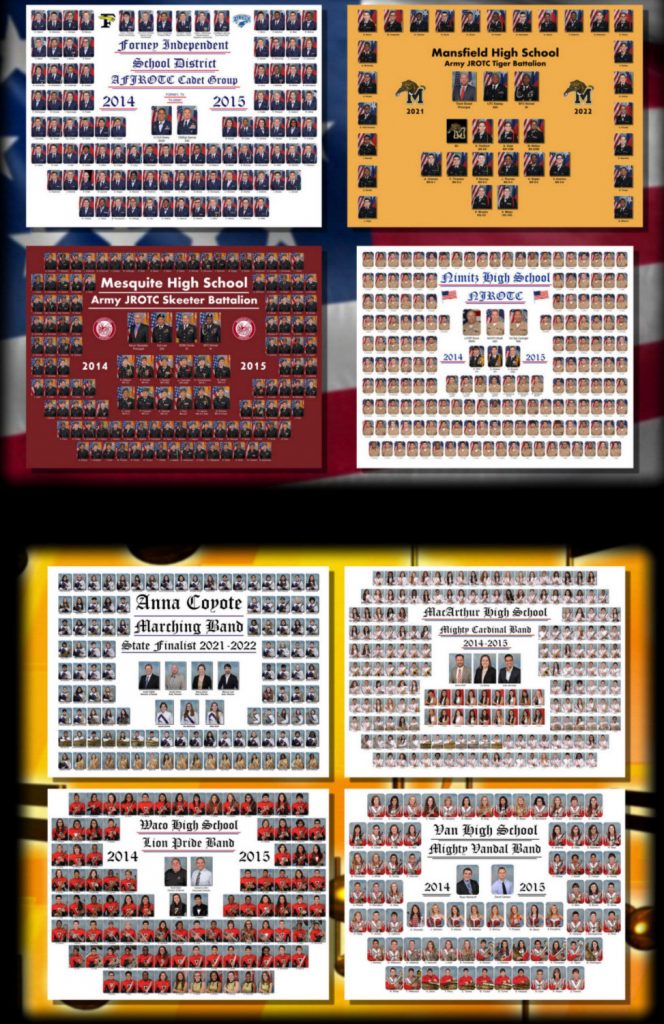 PixelPrairie Imaging Services offers composite photography for school groups in North Texas: Marching and concert bands, orchestras, choirs, and JROTC.
Composite displays come framed in glass in sizes from 11×14 inches to 30×40 inches.
Contact us to receive prices and details.
You can view some of our samples here.
PixelPrairie also offers sales of group member portraits at an online gallery.
The photography is accomplished through a speedy and efficient process, whereby each group member is photographed in a variety of poses. All students are photographed regardless if they do or don't plan to purchase photos.
All photo marketing, purchases, and distribution is done online, so you don't have to be bothered dealing with a salesperson calling on you at school.
Portrait customers won't be required to travel to the school to view proofs and then wait weeks before photos are available online. All photos will be available for viewing within 5 days after the photo day.
The PixelPrairie advantage:
More personalized service by your North Texas neighbors.
More convenient and faster proof viewing.
Custom retouching of all print orders
Faster composite turnaround.
PixelPrairie Imaging Service's goal is to provide composite photography with that local touch. Our goal is to serve North Texans with the kind of personal attention to detail and service that they expect.